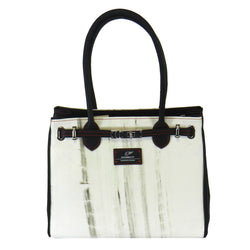 OceanDrive / Ladies Handbag - BurnOut
OceanDrive Ladies Handbag with unique BurnOut Design - every item is a one-off...
Material:
BurnOut-Textile and finest calf leather
Inside Fittings:
Large Main Compartment, Side Pocket with Zipper and Key Ring, Mobile Phone Pocket
Dimensions:
Height 30 cm, Length 37 cm, Width 6 cm
Handcrafted in Germany
The unique BurnOut Design features authentic tire marks that have been 'burned' on a transfer fabric with a sports car. The durability of this fabric is beyond regular materials to be able to stand the load of a real burnout.
Please note:
This is a specially produced item. In case we are out of stock, the item can be shipped to you within 6 to 8 weeks after you have placed your order.

Naturally, BurnOut items will never look the same since every fabric is 'burned' separately. Therefore, the actual item that you receive might look different than what is displayed here.
If you like this product, but would prefer a different fabric/color/stitching - or any other special individualization, please get in touch with us at contact@rennwerkstatt.com.