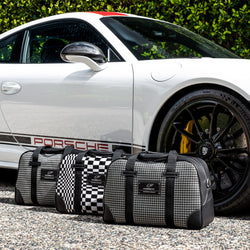 SpeedWeek Bag - Houndstooth 'R' (modern)
This SpeedWeek Bag, is designed to hold belongings for a day-trip. The Houndstooth (modern) fabric is well known from seat inserts in the 911 50th Anniversary model as well as the 911R. 

If you are looking for the Pepita fabric from vintage Porsche vehicles, please search for our Pepita (vintage) products or contact us directly.
Dimensions (approx.): 19" x 12" x 7" 
Please note:
This is a specially produced item. In case we are out of stock, the item can be shipped to you within 6 to 8 weeks after you have placed your order.

If you like this product, but would prefer a different fabric/color/stitching - or any other special individualization, please get in touch with us at contact@rennwerkstatt.com.